Get started with Teams for managers
What is Teams?
Driversnote for Teams provides automatic mileage logging for employees and a simple workflow of reporting business mileage for your company's reimbursement process.
Each team consists of users that can be assigned three different roles depending on their function.
The admin can invite team members, reject or approve mileage reports and manage centralised billing.
The manager role is used in case the admin isn't the one to review mileage reports. Once you assign a manager, they'll also become receivers and approvers of reports.
Normal users are the drivers and have no administrative function. They can still view the team and its members.
All team members can track their trips automatically and submit mileage reports with all the needed information for their reimbursement and/or taxes.
Features for managers
Easily manage users
Invite your employees to your team and view the status of the pending and current members on Driversnote's website.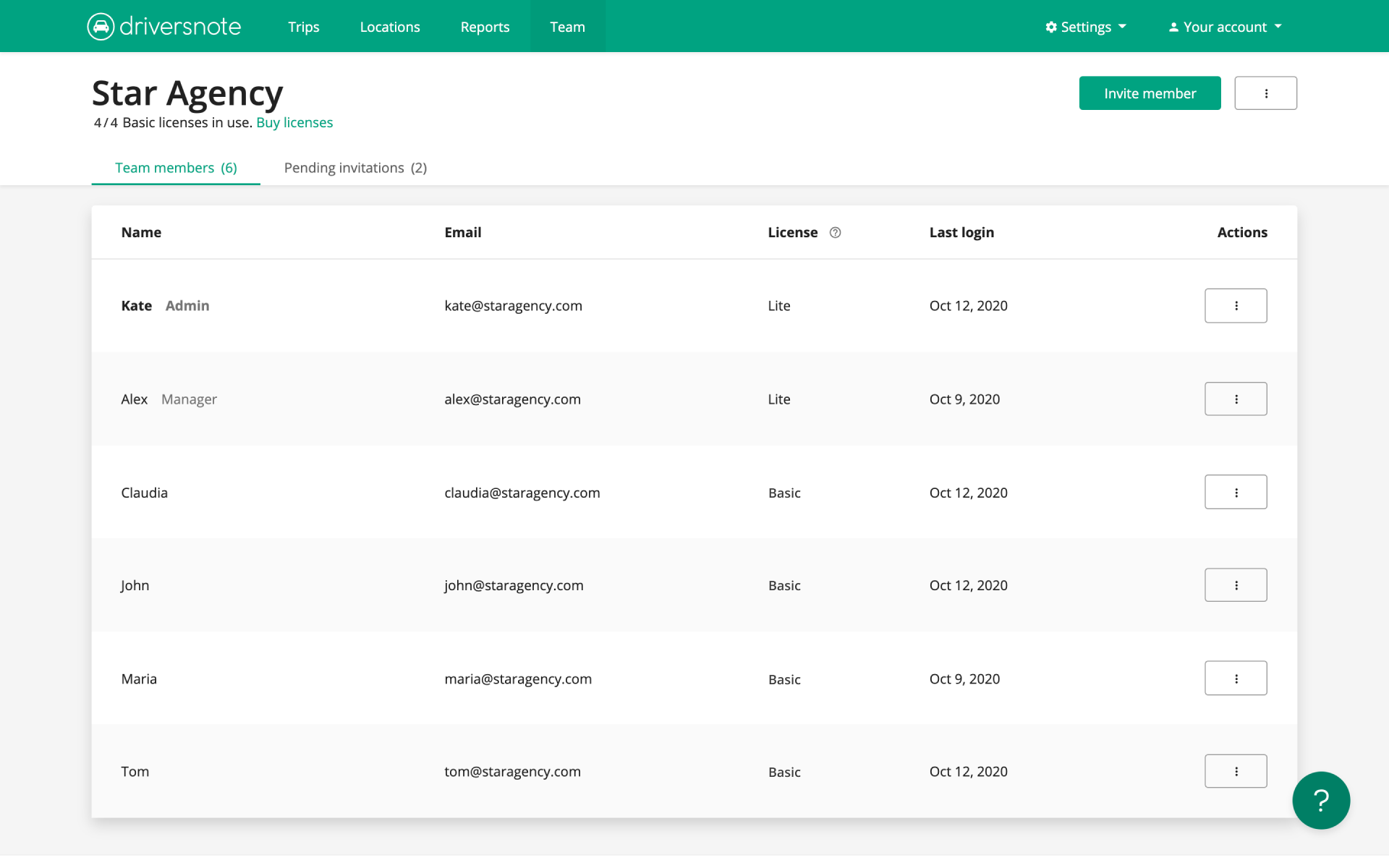 Assign roles to your team members
As the admin, you can assign Team roles on the fly. Appoint another colleague to receive mileage reports (e.g. a manager or accountant) and switch your team members' roles as needed to reflect the dynamic in your company.
Receive mileage reports, see reporting status and approve or reject them
Your employees submit mileage reports directly to their appointed approver (admin or manager) with all the needed information for mileage reimbursement. You are notified when you receive a report and will find it in your "Team reports". You can view the submitted reports and approve them to accept the mileage claim, or reject them in case they need corrections. There's a simple overview of all the team members' reporting status.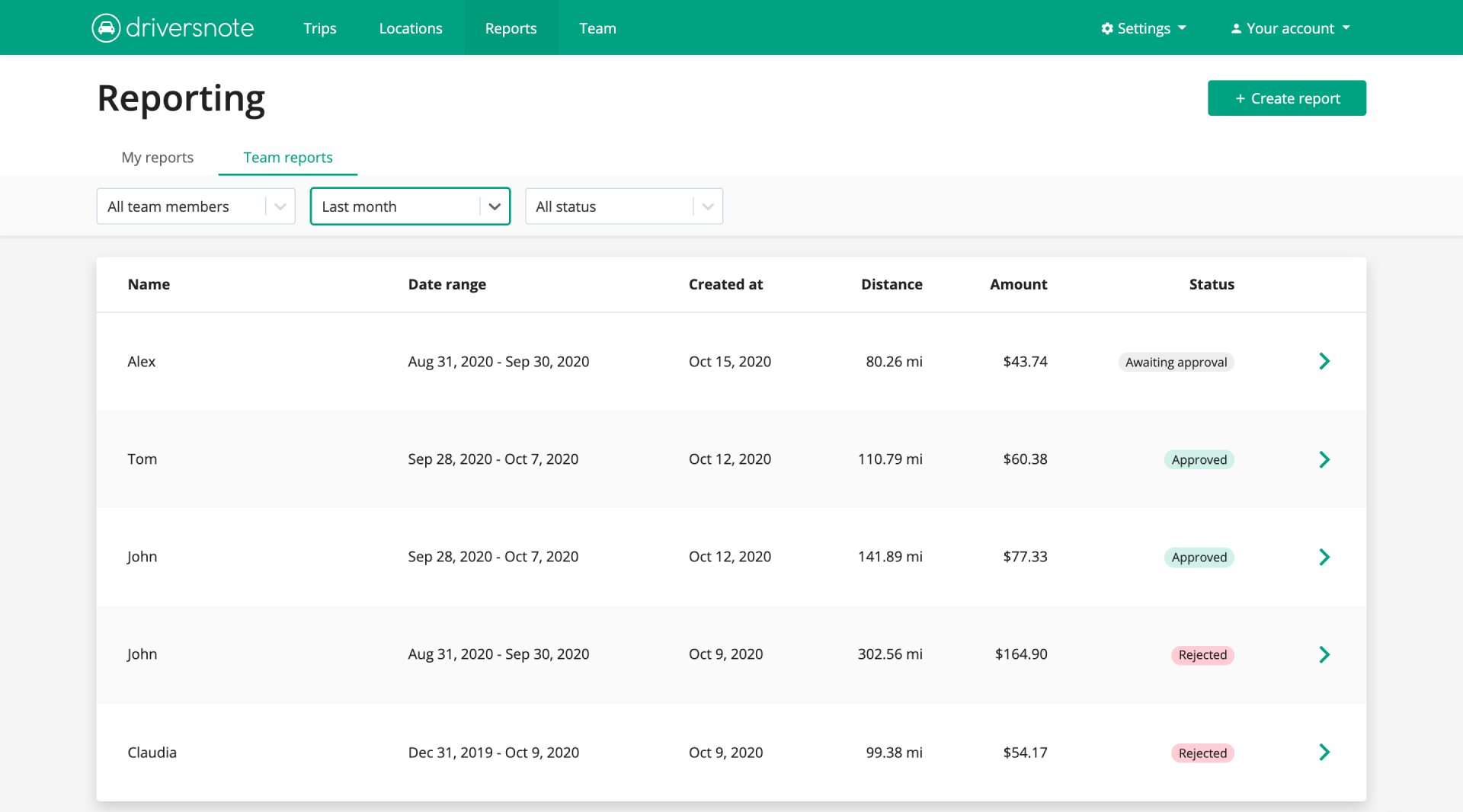 Set reporting periods and reminders
You can set a custom reporting period for your Team, so everybody can easily create reports for the same time frame according to your business' needs. We'll also send out email reminders to all team members when it's time to create reports. See how to set a custom reporting period for your Team.
Set team-wide reimbursement rates
You can easily set a custom reimbursement rate for the whole team if your business uses rates different from the mileage allowance set by your tax authority. See how to manage your team's reimbursement rates.
Centralised billing
All purchased licenses are paid for with one credit card and billed with a single invoice to one company. Contact our sales team at sales@driversnote.com to learn more about pricing.
Buy and assign licenses on the fly
Assign licenses to people driving over our 20 trip limit, keep people who drive less on our free Lite plan. If an employee is not driving as much any longer, but another one is driving more, you can easily reassign the license from one to the other. In this way, we make sure you only pay for what you need.
Aside from the features we've gone through here, we're working on many more features to suit the needs of your team! If you have any specific requirements, feel free to reach out to us.
Get started: Create your team
Getting started and trying things out on your own is completely free.
Sign up
If you don't have a Driversnote account yet, create one by signing up on our website. Then, go to Team from the upper navigation bar. You'll automatically become the admin of the team you create.
Invite team members
Here you'll be able to start inviting employees that need to track mileage. See how to invite your team.
Overview of invited/accepted
You'll have an overview of the status of the invitations you sent out, whether they're still pending or accepted, and you can resend and revoke invitations too. All members that join the team will be assigned as normal users.

Tip
To get each employee off to a good start, have them go through the first-time setup in our Getting Started article.
Common questions
Q: I want to create a team but my employees already have Driversnote accounts?
If they already have an account that's no problem at all - they can still join your team. Just make sure you send the invite to the email they've used to register with Driversnote.
Q: How do you comply with privacy laws?
We make sure that nothing is shared with the company and approvers of mileage reports without the explicit consent of the drivers.
Q: Can I track my employees?
Driversnote does not enable you to track your employees while they're driving in real-time. Most companies do not want to know and have data on their employees' whereabouts at all times.
Q: Can I fetch my employees' mileage reports myself?
You can only see your employees' mileage reports once they have submitted them to you.
Q: Can we get help with onboarding? And how about customer support?
If you need help with onboarding, please just reach out to our support and explain your situation. We provide free support for everyone who wants to be or is a user of our products.
You are also welcome to book a talk with us if you'd like to learn how Driversnote for Teams can best work for your company.