Invite users to your Team and manage team members
What's the benefit of creating a team?
If you would like to manage employees' mileage reports and subscriptions from an administrative account, inviting users to join your Team is an easy way to keep everything centralised. When you invite users to Driversnote, you automatically become the admin of that team. Read more about Team features.
Add users to your Team
Start by logging in to your account on the Driversnote website.
Go to Team in the top navigation bar
Fill in the invitee's name and email address and send the invitation
If they already have an account with Driversnote, be sure to invite them using that email so that all of their mileage to this point is available.
Manage Team members
As the admin of a Team, you can manage the members from the Team page. You can assign team roles and add or remove users.
Assign roles
Assigning roles lets you give permission to team members to manage payments and Team members, purchase subscriptions and receive reports.
The admin invites users, purchases and assigns licenses and receives mileage reports.
The manager is used in case the admin isn't the one that reviews the mileage reports. If you appoint a manager, they will also receive and approve or reject mileage reports, not just the admin.
Normal users have no administrative function. They can view the team and its members.
All Team users can submit reports to the team admin or manager.
You can change assigned roles by clicking on the Actions button of the user.

Then, you can select the appropriate role.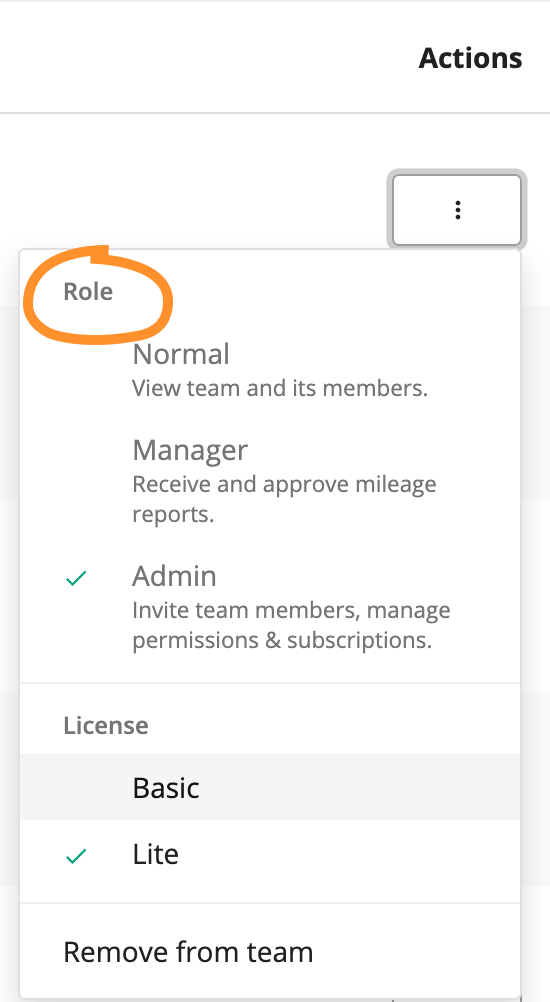 Buy licenses for your team members
If your employees drive more than 20 trips a month, you can upgrade them to the Driversnote Basic subscription, so they can create full mileage reports. To upgrade:
Check that you buy as a company and enter your company information
Select the number of Basic licenses to purchase
Enter your payment information and confirm the purchase
Then, go to your Team page - you'll be able to see how many licenses there are for assigning right under your team name.
To assign a license to a user:
Click on the Actions button of the user you'd like to upgrade
Choose Basic license
In case a team member isn't tracking miles anymore, you can reassign their license to a new team member.
Remove users
In case an employee no longer needs to track trips and submit mileage reports, you can remove them from the team.
To remove a user, go to your Team page, then:
Click on the Actions button of the user you'd like to remove
Click on Remove from team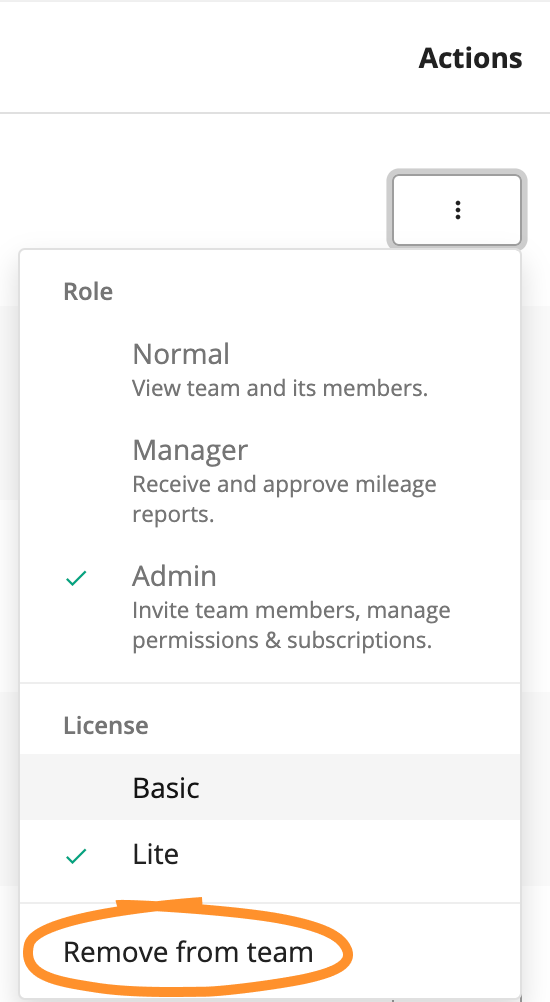 Removing a user from a team does not delete the user or in any way change it. It simply removes them from the Team.
Common questions
Q: Can I have multiple teams?
An organisation can set up multiple teams, however, a user can only be a part of one Team.
Q: Can I add a user to my team that I previously removed?
Yes, you can invite a user to your team again, even if you removed them before. Make sure to invite them with the email they used to create their Driversnote account.
Q: Do you provide onboarding for new team members?
If you need onboarding for your Team, write to us at support@driversnote.com. We provide free customer support for all Driversnote users.