Manage Team reimbursement rates
As the admin, you can set a reimbursement rate for your whole team. You can use the standard rate in your country, set no rate, or use a custom rate if it differs from the local tax authority's current mileage allowance.
When you create a Team for the first time, you will be asked to set a rate. However, you can skip it, and add it later.
To access and edit rates, go to your Settings > Mileage Rates - Please note you can do this on the app as well.
---
In this article
---
Set up a custom reimbursement rate for your team
Log in on the Driversnote website
Go to Settings > Reimbursement rates
Select Custom rates and confirm your choice
Click on + Create custom rate
Enter the rate you'd like to be applied to your mileage, and the time period you'd like to have this rate for
Click Save to save your choice
The custom reimbursement rate will be applied to all users on your team in the selected time frame.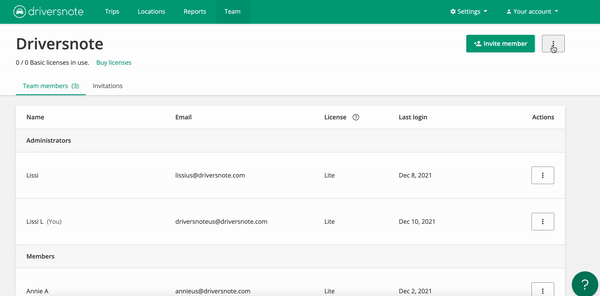 Edit your team's custom reimbursement rate
To edit a custom rate you've set, go to Settings > Reimbursement rates
Click on the rate you want to edit and make changes
Press Save to save the corrections, or Delete, if you'd like to delete the custom reimbursement rate
Tip
Be sure that you have created the correct custom reimbursement rate your business uses, in order to avoid misunderstandings in the company, and with the tax authorities.
---
Set up no rate: split/percentage only
If you do not require a rate, but only need a summary of the miles/km driven, you can remove the rate. If you need both business and personal/private to be shown, you will get a summary of both and then a percentage/split between them.
Check out how to set it below, and how the summary section of a report could look: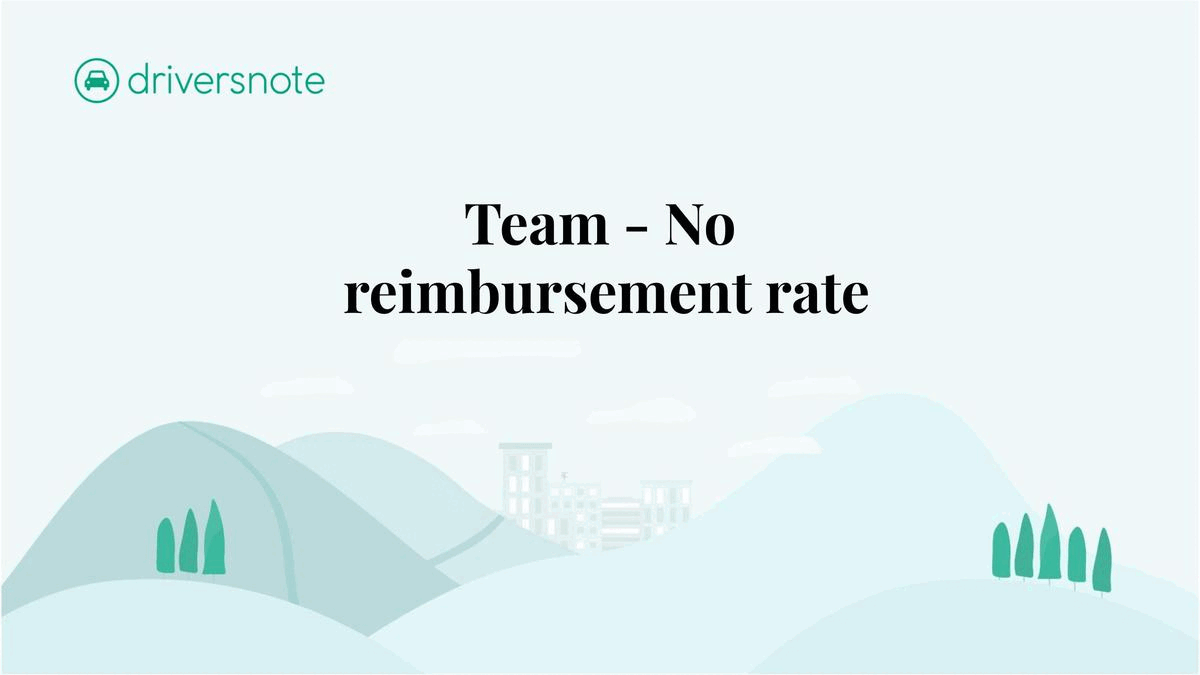 Common questions
Q: Can team members edit the rate?
No, regular members on your team can't change the mileage rate from their own Driversnote account settings. Only Team admin(s) can change the rate.
Q: Which trips are recalculated and updated with the new rate?
Changes you make to your team's custom rate apply to all trips for the time period you've chosen. For example, if you make a rate for 2020, the custom rate applies to your team's drives for 2020. Drives made in past years are not affected. However, previously submitted reports will not have the updated rate applied. Your team will need to create a new report and submit it again.
Q: Members on the team have tracked trips, but cannot see any reimbursement applied, what can I do?
The most common reason members cannot see a reimbursement rate is because the previous reimbursement period has ended. All you need to do is follow the above steps to create a new rate for the current period for your team. It is also possible they have classified a business trip as private/personal. They can edit and re-classify any trips that need to be changed.
Q: I set a new reimbursement rate, why didn't it change the reports?
Reports that have already been created can't be edited, so their reimbursement amount won't change. Team members should create new reports after setting up a new custom reimbursement rate. If you need any help with reporting, check out our guide: Mileage Reporting for Teams
---
Is your team set up?
Check out our video guide on how to set up your team. Lissi from support shows you how to create a team, invite team members, set the reimbursement rate, enable reporting reminders, and much more!