Get started with Teams for employees
Driversnote for Teams helps you keep a mileage logbook and easily submit your reimbursement claims to your employer.
I got invited to a Team
You'll receive an email invitation to join Driversnote for Teams. If you are new to Driversnote, you'll first have to create an account and then you'll be added to the team. If you already have a Driversnote account, you'll be taken to your Teams page right away. You will be asked if you want to move any previous trips over to the new team workplace.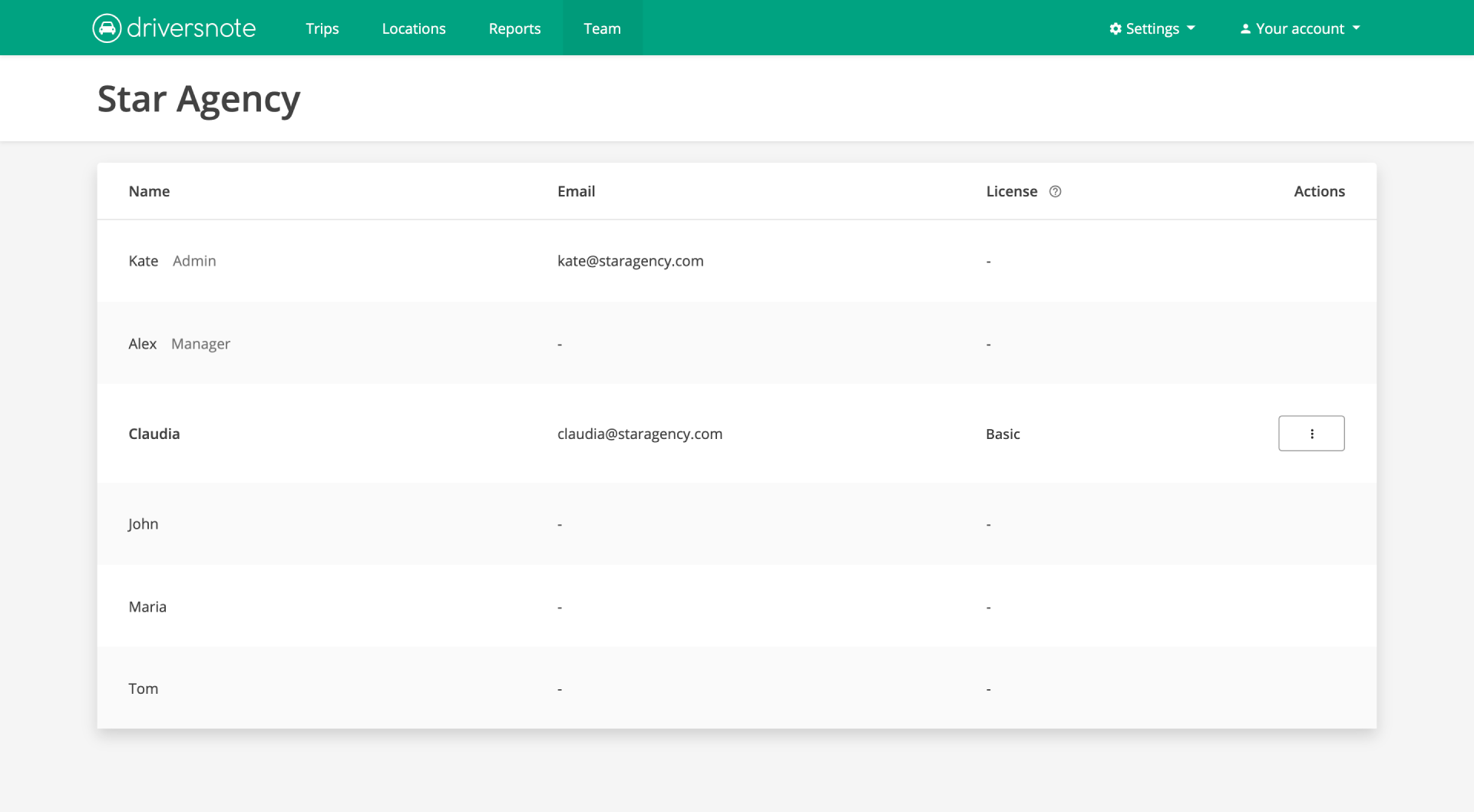 You can see an overview of all team members on your Teams page, who the admin is, and your assigned license.
Your team admin can assign you a Basic or Lite license. The Basic license gives you unlimited reporting and the option for automatic tracking with the Driversnote iBeacon. If you don't drive much for work, you might be on the Lite license, which allows you to report up to 20 trips a month.
Tip
If you already have a Driversnote account, make sure the team admin sends an invite to the email you've used to sign up for Driversnote. That way all your data will remain with you when joining the team.
I am new to Driversnote
Welcome to Driversnote! We're here to make your work life easier by helping you keep a mileage log and easily submit your mileage claims. Once you register and join a team, we recommend you check out our Get started with Driversnote guide to set up your account. Make sure to download the Driversnote app too so you can track your drives in real-time.
Quick set-up
When you join a Team, your admin will have set a workplace and a reimbursement rate. All trips that you log will have this rate applied. All you have to do is register your vehicle. A vehicle will be automatically created for you under the name "My first vehicle", but we suggest you edit and rename it.
I already have a Driversnote account
Great! All your previous logs and settings will remain the same once you join a Team. In order to avoid duplicate workplaces, you can seamlessly move your previous trips to your new team's workplace for easy reporting. See how to move your logged trips here.
Track your mileage
All employees track trips with the Driversnote mobile app - no need to remember writing routes down. You can classify the trips' purpose, add notes to them and save locations you often visit for even faster trip logging. See how to track and log trips with Driversnote.
Create and submit mileage reports
You can create detailed mileage reports with all the needed information for mileage reimbursement in just a few steps. Then, you can submit the reports to your admin or manager with just one click. You'll be notified once they approve or reject your report. Should you prefer, you can also download your reports in PDF or Excel formats. See how to create and submit reports to your team.
Common questions
Q: Can my team admin see me driving in real-time or see all my logged trips?
No. Your team manager has no access to your data and can only see the mileage reports you submit to the Team.
Q: I submitted my mileage report by mistake. Can I withdraw it?
If you submitted a report by mistake, you can easily withdraw it while it's awaiting approval. On Driversnote's website, open the report, tap on the three dots menu button, then - Withdraw report. Your team manager will not be able to see the report once it has been withdrawn.

Q: My report got rejected. What should I do?
Your team manager might reject your mileage report for a number of reasons. We recommend you contact them and find out what you should correct in your report before submitting it again. Keep in mind you'll have to create a new report and can't edit an already created one.
Q: I already have a workplace and got invited to a Team. Can I have both?
With your Driversnote account, you can track mileage for multiple workplaces. Make sure to track and log your trips under the correct workplace in order to ensure correct mileage reporting.