How do I set my odometer
What is an Odometer reading used for, anyway?
The odometer is the gauge on your car that tells you the total miles/kilometres your car has traveled in its lifetime. Although you don't always have to include odometer readings in your log, some employers or tax authorities recommend or require driving reports to be accompanied by an up-to-date odometer reading of your vehicle.
Tip
Have the app send you daily, weekly or monthly reminders to update your odometer. In the app or web version go to settings > vehicle > select your vehicle.
Under odometer you can choose how often you would like a reminder (daily, weekly, monthly, never).
You can enter your odometer readings both within the app or on our website, plus manage notifications and reminders.
---
Odometer readings in the app
1. Tap on the green plus sign then click Add odometer reading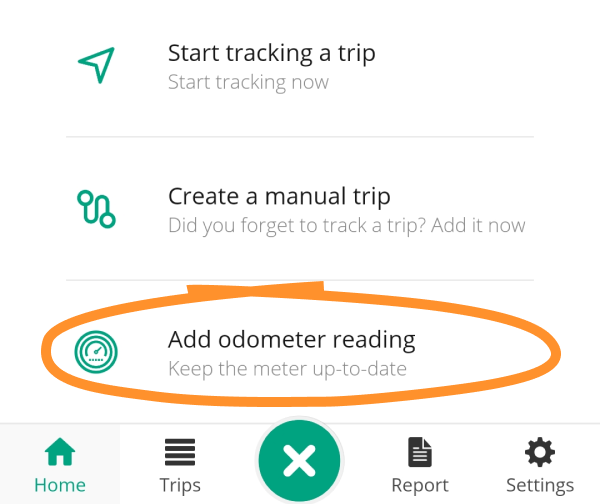 2. Scroll the numbers on the odometer dial to match the odometer reading displayed on your vehicle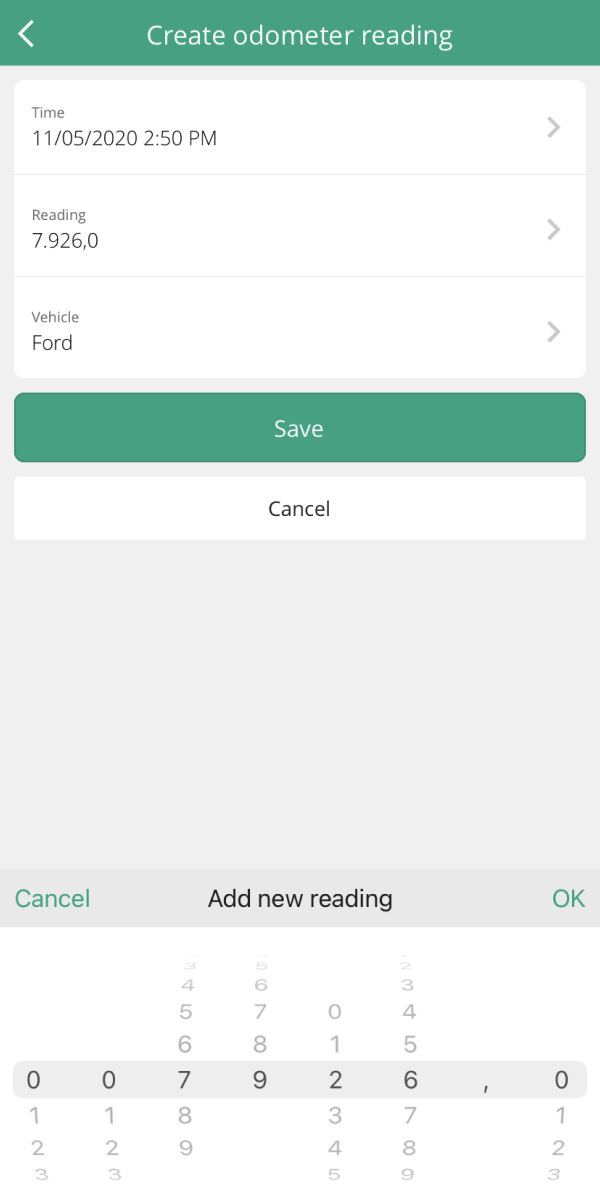 3. Tap OK and Save your reading
---
Entering odometer readings on the Driversnote website
1. Select Odometer from the Settings menu in the upper right-hand corner, then click on + Add new reading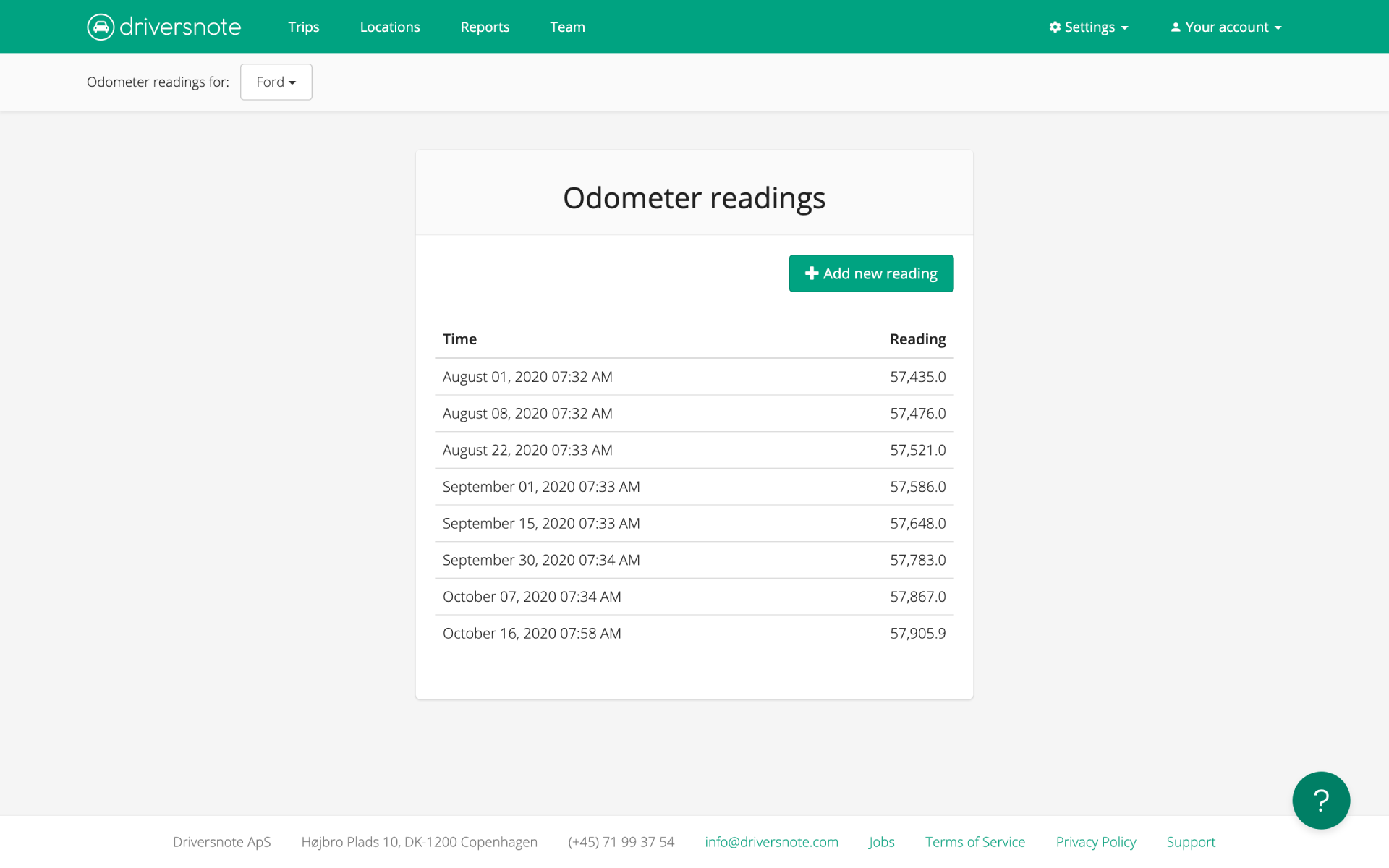 2. If you are entering an odometer reading on the website and not immediately in the app, be sure to set the correct Date and Time when you enter your odometer reading

3. Click the green Create button to save your reading
Tip
If you have more than one "Vehicle", make sure you've selected the vehicle you're using.
---
Common Questions
Q: Why is there a difference between the number of km/miles in my reports and what is shown on my vehicle's odometer?
There will always be differences in the distance measured by the Driversnote app and your odometer. The app uses your phones GPS to measure the distance traveled while the odometer calculates the distance based on the number of revolutions for the tire and the tire's diameter. Both systems are prone to errors (example: from wear and tear of the tire and/or change in tire pressure), so you can never expect them to be 100% the same. However, as a rule of thumb, they should stay within 1% of each other.
Using the app's GPS tracking results in fewer odometer inconsistencies
Q. Will the Driversnote app let me know if there is an odometer inconsistency?
Yes, any inconsistencies will be marked in orange in your report. You can edit or delete the inconsistent reading entry by clicking/tapping on the arrow button at the far right side of the row.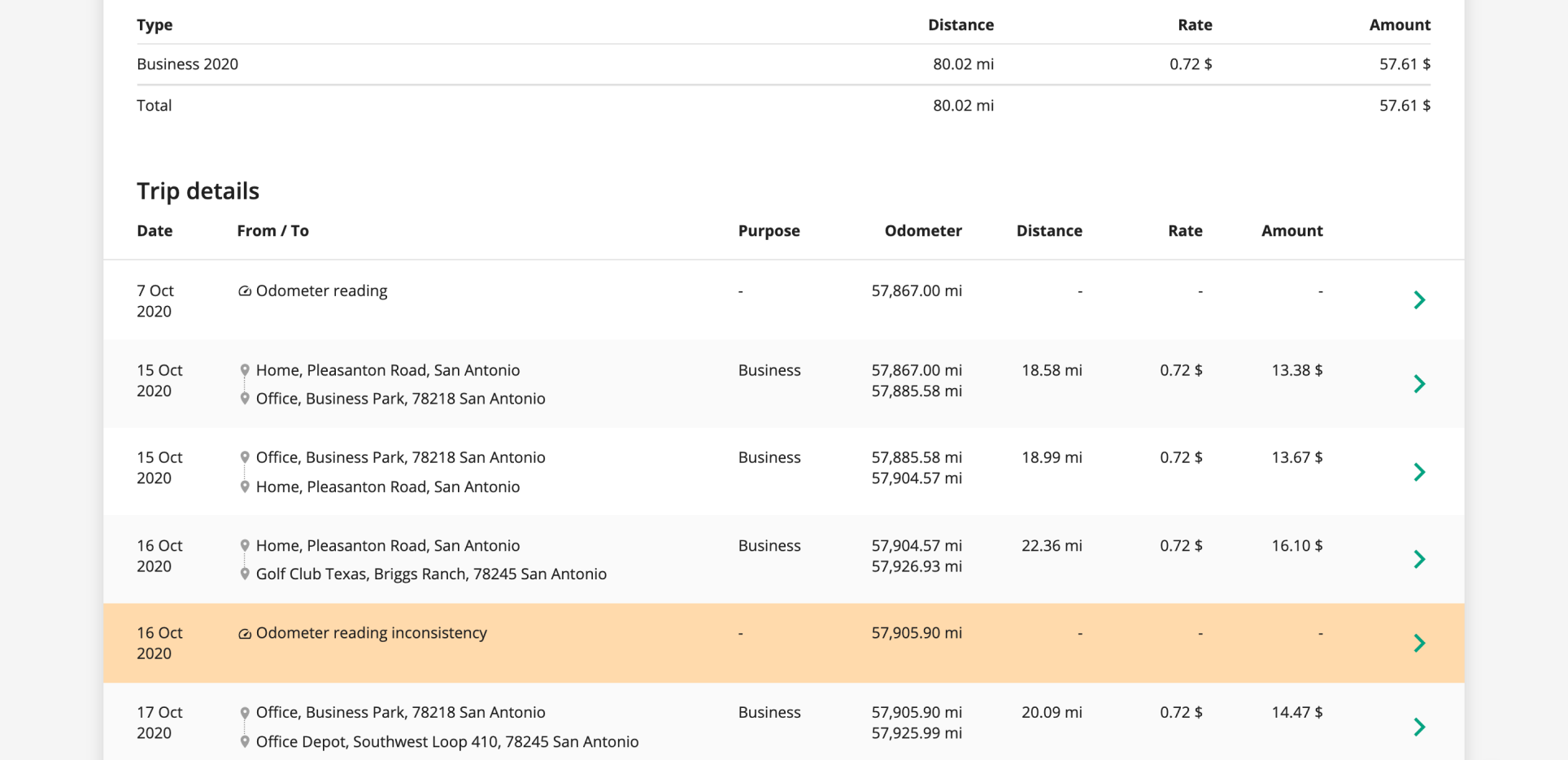 Tip
We recommend that you update your odometer after both business and personal/private trips. If you update the odometer at the beginning of your workday, personal/private trip kilometres/miles will also be accounted for in your odometer. This will help to avoid any odometer inconsistencies.