Why can't I see my trips?
Are you having trouble seeing your trips in your trip log or in your reports? Below are some troubleshooting tips that will hopefully get you tracking again!
If you can see your trips but aren't sure how to create a report, please click here to create a report.
In this article:
Check your phone settings:
I can't see my trips when creating a report
If you can see your trips in the "Trips" list, but they don't show up when creating a report, check that you have selected the correct Workplace, Vehicle and Trip type from the report filters.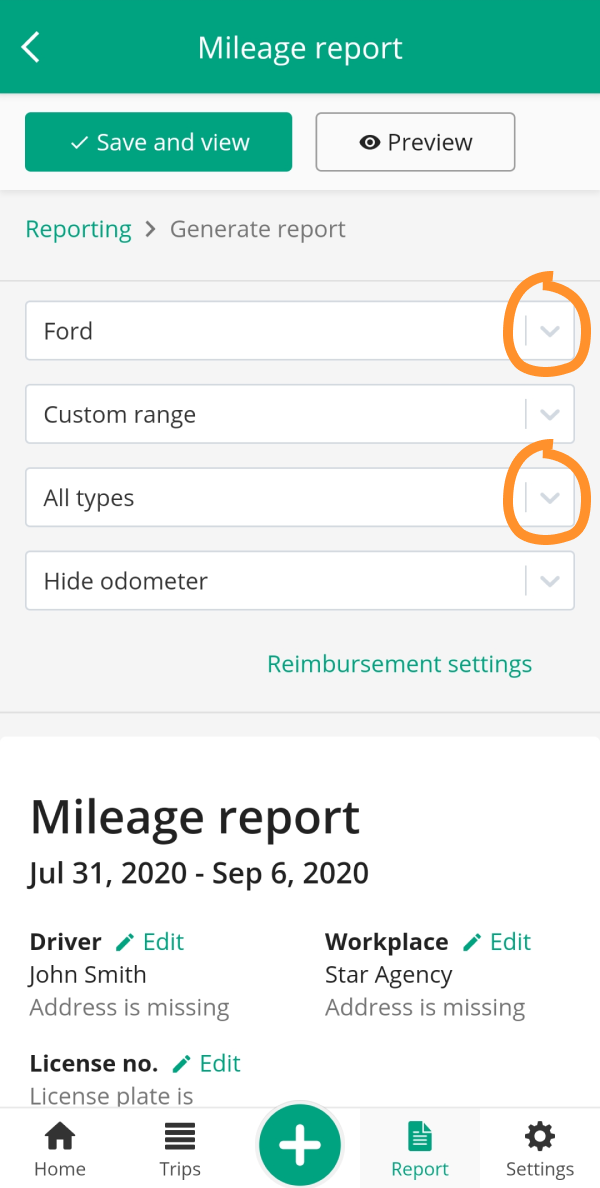 I use the iBeacon for automatic tracking, but my trips are not showing up
If you are an iBeacon user and cannot see your trips, here are some tips to make sure that your device is linked and tracking to the correct vehicle.
Check your phone settings
The most common reason our users experience a lapse in their iBeacon tracking is that their device settings are not set up correctly.
In the Driversnote app
First, check that "Auto track" is turned on in the app.
Open the app and check the top left corner
"Auto track" should be toggled on
On an Android phone
1. Grant Location permission
Go to your phone's Settings -> Apps
Tap on Driversnote in the list -> Permissions
Make sure Location is toggled on.
2. Check if Battery Optimization is disabled. Here's our short guide on how to disable Battery Optimization
On an iPhone
Go to your phone's Settings -> Driversnote
Make sure the following permissions are granted:
Location is on "Always" and Precise Location is turned on
Motion & Fitness is toggled on
Bluetooth is toggled on
Tip
Update your phone to the latest iOS version. Apple tends to improve all the time, and so do we. Oftentimes an update can also fix a bug.
GPS-related issues (iOS)
If you notice your trips are not automatically tracked, although your settings are correct, you might have been affected by a GPS inaccuracy issue. The following fix should get you tracking again.
Go to your phone's Settings -> Privacy -> Location Services
Turn off Location Services
Restart your phone
Turn on Location Services again.
iBeacon linked to the wrong vehicle
If you have recently purchased a new car and moved your iBeacon from one vehicle to another, you must then add that vehicle to your account. Learn how to connect your iBeacon to a new vehicle.
If you do not create a new vehicle, the trips you have taken in the new vehicle will be registered under the former vehicle and you will have an incorrect report.
Check that you're logged in with the correct email
One of the most common reasons our users cannot see logged trips is that they have unwittingly created two accounts.
If you are trying to download a report and finding the report page to be blank, it may be because you are logged into an account with no registered trips.
Fortunately, this is a simple fix that can be remedied simply by logging into the former account and downloading the report.
If you need more help with this or you think there is another reason you are unable to see your trips, please contact our stellar support team, at support@driversnote.com and they will sort it out.