Manage subscriptions & billing
You can easily access your invoices at any time on the Driversnote website and subscription dashboard.
After logging in, click on Your account in the upper right-hand corner, then click Your subscription from the drop-down menu.
From here, you can get an overview of your subscription, plus navigate to and manage different aspects of your account such as your invoices, billing address, and payment card.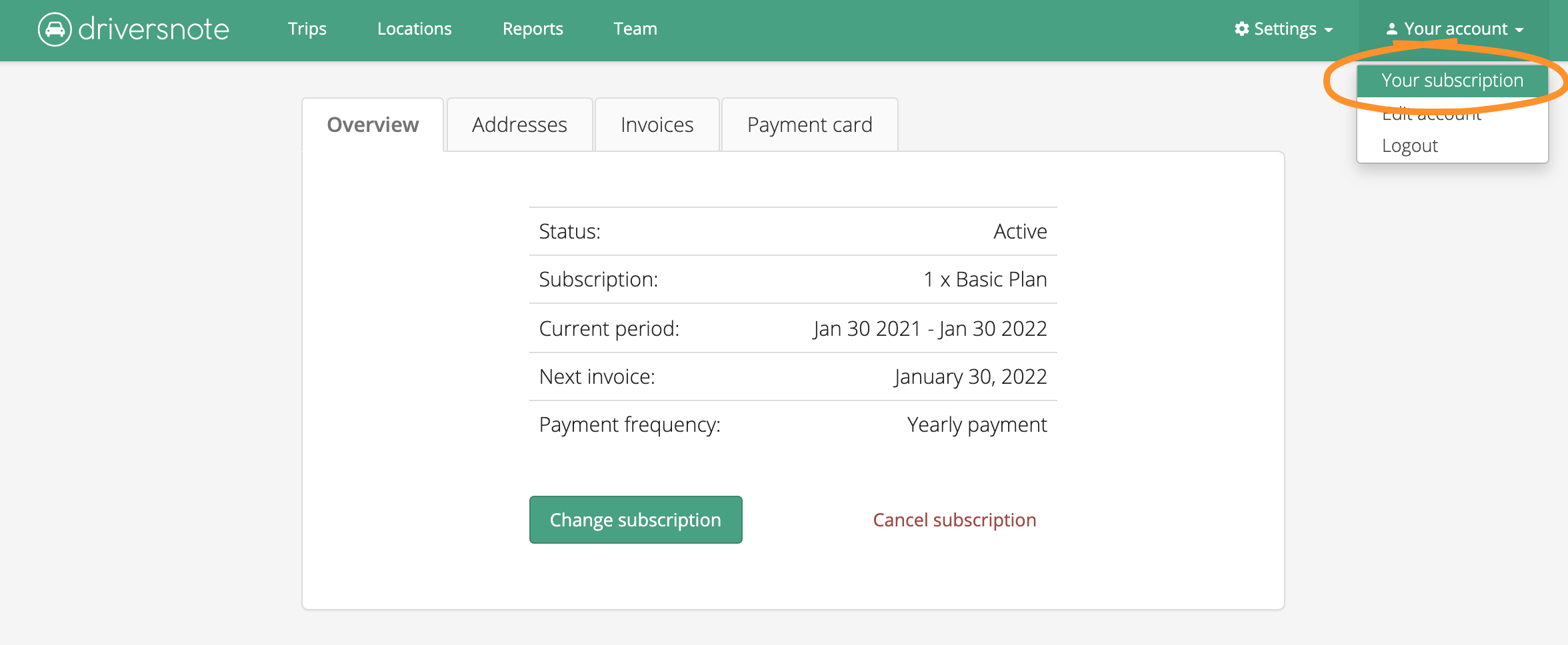 Please note that it is only possible to edit your subscription, invoices, and billing information on the web version and not on the mobile app.
Jump to the following
---
Manage my subscription
When you enter Your Subscription, you can see an overview of your current subscription, how many licenses you have, when is the next renewal date and if you have a monthly or yearly payment.
How to see my current plan
Under Your Subscription, you can see if you are on the free Lite version or if you have a paid subscription.
How to change my subscription
If you are currently on the free Lite version, check out our guide: How to upgrade to the Basic Subscription. You can upgrade for a monthly or yearly subscription.
You can change your subscription from monthly to yearly by clicking on the green button Change subscription. On the next screen, you can select your new plan and payment.
If you are a team and need to add more licenses, you can click on the green button Change subscription. On the next screen, you will see a section called Add extra users. Select the number of new users, click Continue and finish the check-out process. Read more in our guide: Purchase and assign licenses in Teams
Common Questions
Q: Can I change my subscription from a yearly to a monthly subscription?
No, a change in subscription type can only be switched from monthly to yearly.
Q. How many users are under my account?
You'll be able to see the number of users you have from the Team page in the upper left-hand corner.
Q: Can I purchase additional iBeacons if I have more than one vehicle?
You can order a new iBeacon via this link www.driversnote.com/subscription > Change Subscription > Order Extra iBeacon
---
Invoices
To view your invoice history and download previous invoices just click Invoices, then Download
Common Questions
Q. How long will my invoices be available?
Your invoices will be available to you as long as you have an active Driversnote subscription.
Q. Where can I find when the next payment will be withdrawn from my account?
From the Subscription Overview page, you can see the subscription type and when you will receive the next invoice.
---
Billing Address
To view your billing address just click Addresses. Here you can see your billing information and addresses. You can also change and update your delivery address for the iBeacon.
Common Questions
Q. My iBeacon should be delivered to another address than my billing address?
Tick the box Use a different address for delivery of iBeacons. Fill out the address and click Save.
---
Payment Card
To view or edit your payment card, just click Payment Card. Here, you can review your card and also click Change your payment card to update your card information.
Common Questions
Q. What forms of payment do you accept?
We accept all major payment cards and support transactions in a range of currencies.
Q. I am trying to change my card, but it is not working?
Contact us at support@driversnote.com and we will gladly help.
Q. How do I set my payment to auto-renew?
All payment options will automatically auto-renew. If you wish to cancel the subscription, you must do so before the next payment is set to be withdrawn.
Q: I just got an e-mail about the failure of my payment card. Where can I update my card information?
Follow the above steps, click Payment Card then enter the new card information.