How to contact us
Need help with the Driversnote app? We've created a whole universe of guides and videos that can help answer your questions. If you don't find the answer there, then let us know!
Want to contact our support team? Get in touch by sending us an email at support@driversnote.com.
---
In this article
---
Reach out to us from the app
There are multiple ways you can contact us. One of the main ways you can contact us is directly through the app.
Open up the Driversnote app and then tap on "Settings"
Scroll all the way down until you see, under the Support heading "Get in Touch"
---
Reach out to us on the website
Navigate to Driversnote.com
From the home menu, click on the little green checkmark on the bottom left of your screen
Click on "Ask" and start typing your question for us!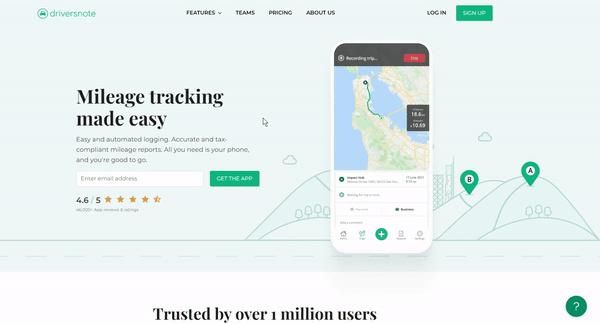 Please note
Please note, to assist you faster we ask that you reach out to us from the email that you have an account.
---
Phone support
If you'd like to speak with us over the phone, please reach out to us at support@driversnote.com so that we can hear about your question first and then send you a link to book a call if needed.
In 95% of all cases, it can be solved quickly and effectively directly through email.
---
Tax information
If you have questions about the rules for mileage reimbursement or deductions, check the mileage guides we have prepared or seek local advice from an accountant or tax professional.
IRS mileage guide (US)
CRA mileage guide (Canada)
ATO mileage guide (Australia)
HMRC mileage guide (the UK)
SKAT mileage guide (Denmark)
Skatteverket mileage guide (Sweden)
---
Common questions
Check out the following guides for some answers to some common questions we get
Q: I need help with my subscription:
How to upgrade to the Basic Subscription
Manage subscriptions & billing
Q: I need help with my tracking:
General Troubleshooting for Auto-tracking
Tracking Configuration & Settings Requirements
Android Battery Saving Settings
Q: I can't see any of my reports: