How to review & edit trips
Driversnote allows you to track and log trips both manually and automatically with our two forms of auto-tracking. We know that from time to time, you need to edit a trip. Perhaps you classified a trip as Business when it should have been Personal/Private? Or you would like to add a note on a trip with the name of the client you visited. You have the ability to easily edit and delete trips both within the mobile app and on our
website
.
In the article below we will show you how, and we will share our best tips and tricks!
Review your auto-tracked trips
Your auto-tracked trips will be added to your Trips list. New trips will also be added to the To review list in the mobile app or with a red dot on the web version. From here you can revise them and approve them one at a time or delete the ones you don't need. More specifically, while reviewing them, you can edit the name of the start/stop location, the time and date, the vehicle, and the workplace. You can also classify them as business or personal/private, and add a note. Afterward, click approve and they are ready for reporting.
Once a trip is reviewed, it will be removed from the To review list and will remain on the All Trips list.
On the web, once a trip is reviewed, the red dot will disappear.
Please note
Manually logged trips are added by default directly to the All list.
Tip
You can always scroll to the bottom of your To review list and tap Approve all. Alternatively, you can ignore them all, as all the trips will be in your Trips section (whether you approve them or not).
Tip
If you are constantly having to change your trips' type, you can save time by setting up your work hours and letting the app categorize your trips based on departure time as either business or personal/private. Read more here
In the video below, check out how we change a trip type, add a note, and delete a trip: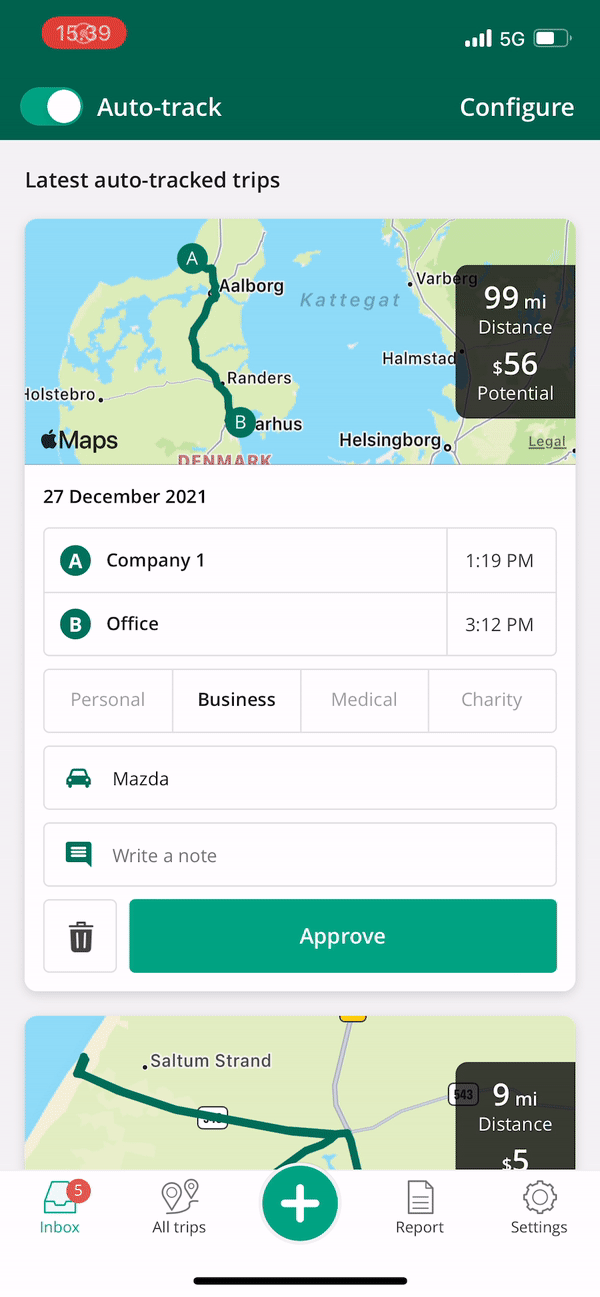 ---
Edit a trip from the mobile app
To edit a trip in the mobile app:
Open the app
Tap on Trips > All
Find the trip you wish to edit, then tap to show the Trip details
There you can edit all trip details, including address, classification (business & private/personal), and vehicle
If you wish to change the time and date of a trip, tap on the time and date shown under the address of your trip
Tap Done
Tip
You can make a note in order to record specific details about your trip. For example, details pertaining to your trip (like allowances, services, fuel, and other expenses). These notes will then show up both in the list of trips and in your downloaded reports.
Here is an example of changing each trip's classification from business to personal: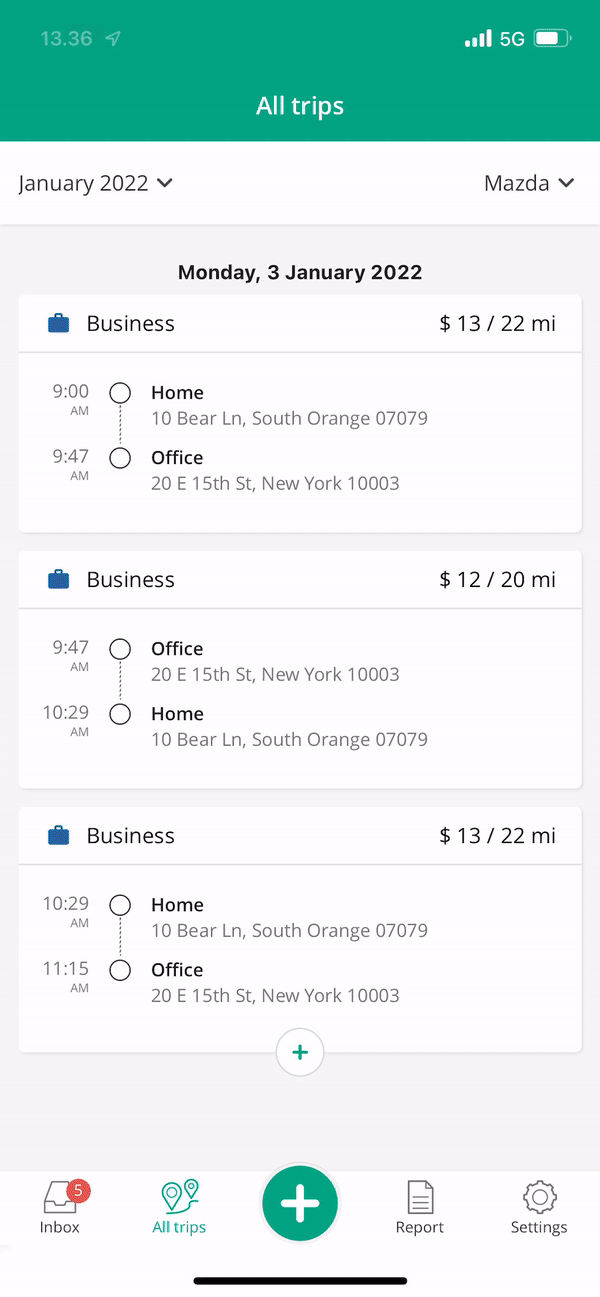 ---
Extend the start/stop location of a GPS trip in the mobile app
If you would like to extend a trip's route, you can do it by adjusting its starting and/or ending location(s). To do that:
Find your trip either in the Trip Inbox or in the Trips' list.
Select the Start/Stop location.


Choose a location from the list or type to search by name or street. If you choose a saved location, then you will be directly taken to the Extend route screen. If you choose a new location, then please keep in mind that the app will first ask you to save that location.

Please note

The route extension applies only for locations outside a 400m radius of where your trip started/stopped. If you select a location within the 400m radius, then the route length and the total trip distance will not be affected.

Tap Extend route


Select a route


Please note

When creating manual trips, the Driversnote app asks Google for the most optimal routes. In other words, the shown routes are based on data we get from Google, which means that there might be different route options available depending on the time of the day, on the traffic or on specific usage information about how users are driving around.
After doing that, the route will be extended and the distance difference of the newly selected location will be added to the total recorded distance of the trip.
Edit a trip from the Driversnote website
Driversnote Web offers you multiple options for editing trips! Log in using your e-mail and password, then click Trips. Depending on what you want to edit, use our quick actions, bulk actions menu, or click on an individual trip.
Quick Actions
If you need to edit the classification of or delete a trip, use our quick actions. Just hover over the trip and click on the action you wish to take.
Here is an example of quickly changing the classification of trips:

Bulk Actions
Use our bulk actions feature to add the same note to multiple trips, change the vehicle/workplace of multiple trips, delete multiple trips at once or mark trips as reviewed.
Simply select the trips you wish to edit and then use the Bulk Actions Menu to edit.
Here is an example of adding the same note to multiple trips:

Edit an individual trip
Find the trip you would like to edit and click on it to reveal the trip details
To edit the time and date of your trip, click directly on the numbers you wish to change
The changes to the trip will be saved automatically
Note that if you need to edit a start or end destination for an auto-tracked trip that is more than 400 m away, then you need to create a new trip manually and then delete the incorrect auto-tracked trip. Read more here: How to log a trip manually
---
Optional - Review your trips
Do you track your trips automatically using motion detection or our iBeacon? Instead of reviewing the trips in the app, you can review them on the
website
. Trips that you have not reviewed will have a red dot next to them.
There are a few ways to mark trips as reviewed:
Open the trip to view and edit all details
Use quick actions to quickly edit a trip without opening it
Select the trip or trips and use the Bulk Actions Menu to mark them as reviewed
Please note, that reviewing is optional but allows you to quickly see your latest trips and ensure that they are correct for when it's time to report :-)
Here is an example where we reviewed the trips by looking at the locations, and classifications. They all look correct so we select them all and mark them as reviewed.

---
Delete a trip
To delete a trip via the Driversnote website, select the trip you wish to delete from your Trips list, then click on the Delete button in the selected trip details.
In the mobile app:
To delete a trip in the mobile app, select the trip you wish to delete on your Trips list. Then, tap on the garbage bin icon in the top right corner.
On the website:
To delete a trip on the Driversnote website, hover over the trip, and on the very right side, there's a trashcan symbol. Click that, and it's gone! (You will always receive an undo option just in case).
Have lots of trips to delete? Select them all and use the Bulk Actions Menu to delete them all at once.
Note: If you need to delete a vehicle or workplace, we suggest that you archive them instead. Read more here: How to archive a vehicle and How to archive a workplace
---
Common Questions
Q: I cannot find an address, what should I do?
The simplest solution is often to create a saved location, which enables your device to quickly find an address rather than searching for it. To learn how to create a Saved Location click here.
If you cannot find the location in the search bar, you can create your own location on the map. This feature is only available in the app.
Q: How do I make a multi-stop / round trip?
With the Driversnote app, you can only track your trips from point to point to record your full logbook. A full logbook entails that you record all the stops you make, which is the reason why we recommend you log each part of your trip separately, from a starting point to a single destination.
In other words, if you have made one trip with multiple stops, you will need to log each ''leg'' of the trip separately. You can also add a relevant note to each trip (to show that it was all the same trip).
Q: How can I create a return trip?
You can easily create a return trip manually both in the mobile app and on the website. Tap on the plus sign under a trip in the app or Next trip on the web - we will prefill the end destination as the start destination.
Q: How can I change the currency of the reimbursement amount shown in my trip logs?
The reimbursement amount for your Business trips will have the currency of the country that your vehicle is registered under in the Driversnote app.
If you need to change the rate that is applied, you can set a custom mileage rate. Read more at our guide on How to manage mileage & reimbursement rates
Q: Is it possible to change the distance measure units from kilometers to miles (and vice versa)?
As a general rule of thumb, if your vehicle's country in the Driversnote app is set to be United States, United Kingdom, Liberia, or Myanmar then distance will be shown in miles.
Q: I've edited a trip, but the changes are not showing up in my report.
If you make changes to your logged trips (or log new trips) after creating a report, those changes will not be seen on the saved report until you apply the updates. Open the report and click on "Apply Updates". If in doubt, simply create a new report. Read more here: How to create a report